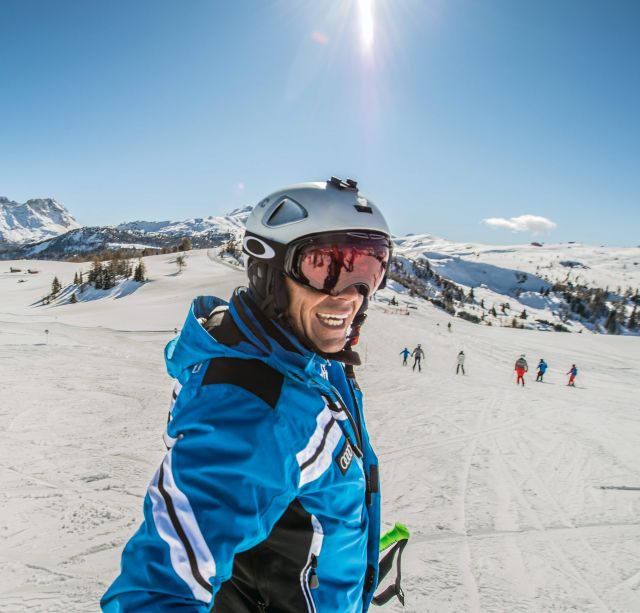 General terms and conditions of the Ski School San Cassiano in Alta Badia
Useful information for our clients
IMPORTANT INFORMATION:
San Cassiano Ski & Snowboard School request that everybody reads this information. This will help, to ensure that everything will run smoothly and will keep the learning environment as safe and fun as possible for our most precious customers and their kids!
It is essential to come prepared with the following:
Helmets (To be worn by all children under 18 years old, it is policy in Italy since 2003)
Suitable clothing for the weather conditions (ski suit, eye protection and sun ream, gloves)
Ski pass
Ski or snowboard equipment
Lift passes, and equipment are obligatory and are not included in our prices.
Please ensure purchasing your equipment and lift pass prior to the lesson.
Just the delivery of the booking - ticket gives the right to attend private and/or group lessons.
GROUP COURSES:
If the minimum number of participants will not be reached, the group lessons will be reduced in fewer hours, converted into private lessons, or refunded.
Lunch breaks are not included in the price, we ask you to give 11,00 € per day to the children
Details regarding any medical conditions and dietary requirements must be made known to the office staff and instructor prior to all lessons.
Please be punctual in bringing and picking up your children.
If a client has a child in a lesson with our Ski School, but does not arrive within 15 minutes of the agreed time to pick up the child, we'll have to enforce a charge of 10,00 € per half hour.
CANCELLATION POLICY:
All bookings, not cancelled more than 48 hours in advance will not be refunded.
In the case of lesson cancellation due to Covid-19 restrictions, lift closure, injury or sickness, adverse weather conditions, breakdowns of mechanical installations or other incidents beyond the company's control, you will be informed in advance by our office and the paid but not attended lessons will be refunded.
Interruptions due to illness or accidents will be refunded only if you hand in a medical certificate issued by the local health office.
The Ski School San Cassiano reserves the right to cancel any session if payment is not settled in full before the lesson.
LATE FEE:
Because of the nature of our business and the fact that we are often very busy and must move promptly from one session to another, we must insist on our guests being punctual. Instructors are asked to wait for clients for up to 45 minutes. If the client has not called our office or the instructor to inform them, that they will be late, the instructor is entitled to leave, and the client will be liable for full payment of the lesson.